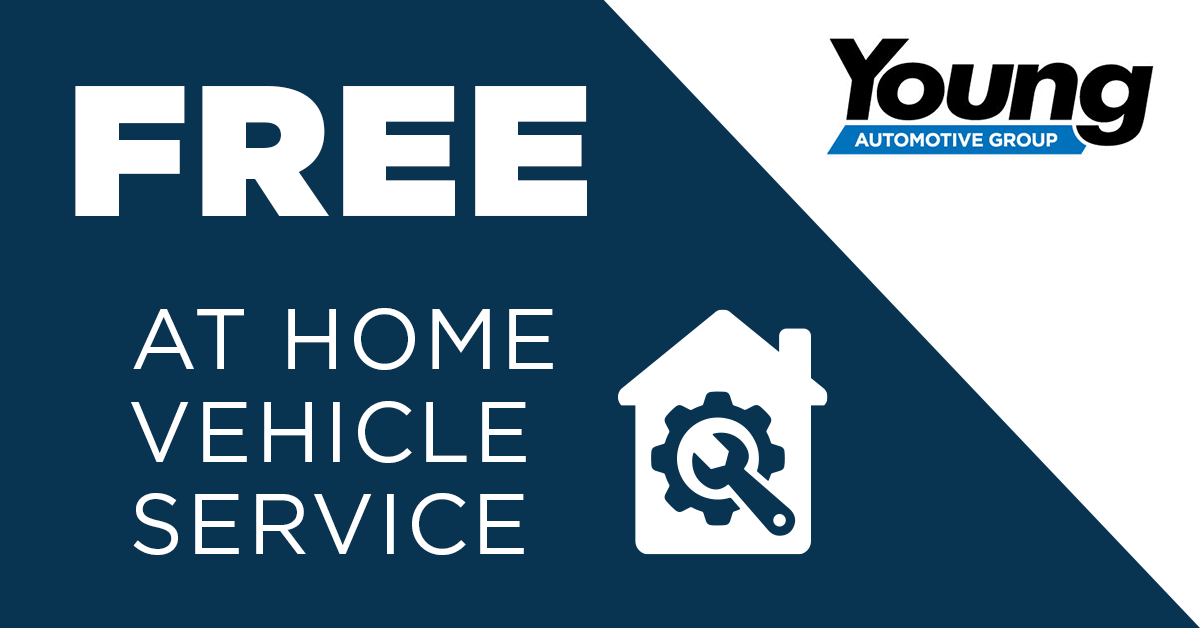 Hours
Monday

9:00 am - 7:00 pm

Tuesday

9:00 am - 7:00 pm

Wednesday

9:00 am - 7:00 pm

Thursday

9:00 am - 7:00 pm

Friday

9:00 am - 7:00 pm

Saturday

9:00 am - 7:00 pm
See All Department Hours
Dealership Hours
Monday

9:00 am - 7:00 pm

Tuesday

9:00 am - 7:00 pm

Wednesday

9:00 am - 7:00 pm

Thursday

9:00 am - 7:00 pm

Friday

9:00 am - 7:00 pm

Saturday

9:00 am - 7:00 pm
Parts Dept. Hours
Monday

8:00 am - 5:00 pm

Tuesday

8:00 am - 5:00 pm

Wednesday

8:00 am - 5:00 pm

Thursday

8:00 am - 5:00 pm

Friday

8:00 am - 5:00 pm

Saturday

8:00 am - 4:00 pm
Service Dept. Hours
Monday

7:00 am - 6:00 pm

Tuesday

7:00 am - 6:00 pm

Wednesday

7:00 am - 6:00 pm

Thursday

7:00 am - 6:00 pm

Friday

7:00 am - 6:00 pm

Saturday

Closed
At Young Automotive we greatly care about the safety of our customers.  With Young's At Home Vehicle Service we will come pick up your vehicle for service from your home. Just leave your keys where we can find them and leave the rest to us!
We'll service your car and deliver it back to you,
fully sanitized inside
.  
Once service is complete we will call you over the phone for payment. Simple, easy and safe!
The form is submitted using an HTTPS form action. All sensitive data is encrypted before transmission and is never sent as clear-text.
* Indicates a required field